Samsung DM32E – Slim Direct-Lit LED Display for Business
Samsung's DM32E displays are built for highly reliable 16/7 run-time to meet your business' commercial operating requirements, at a competitive price. Deliver an outstanding visual experience with Full HD resolution on the 32″ screen, while a lightweight design ensures installation ease and a full range of connectivity inputs offer flexible content options.
Reliable 16/7 Operation and Enhanced System-on-Chip Performance with a Quad Core CPU
Sleek Industrial Design with a 10.5mm Bezel and Ultra-Slim 2.0″ Chassis
Built-In Wi-Fi® for Expanded Connectivity
Transform Your Display with an Optional Touch Overlay for a PC-Less Touch Solution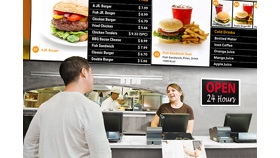 Reliable 16/7 Operation
Innovative Samsung cooling technologies allow your message to be displayed with highly reliable 16/7 operation, so your business can meet commercial operating requirements.
Enhanced System-on-Chip Performance with a Quad Core CPU
Powered by a System-on-Chip (SoC) semiconductor and quad core CPU with 8GB of storage, Samsung's SMART Signage Platform is an open and integrated player side media platform that provides a powerful, streamlined solution to reduce TCO for digital signage deployments, through savings in hardware, installation and operating costs.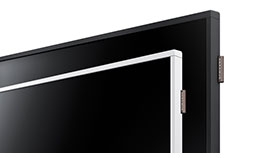 Sleek Industrial Design
The 10.5mm bezel provides a sleek, elegant look that can be polished with optional customizable bezel trim kits in matte black or white. And the stylish, ultra-slim 2.0″ chassis helps simplify installation while meeting ADA compliance requirements.