Russound MCA-88 8 Source – 8 Zone Controller Amplifier
The Russound MCA-88 Digital multi-zone controller amplifier provides up to eight zones of distributed audio. Scalable to 48 zones, the MCA-88 provides numerous options to tailor every room in residential or light commercial distributed audio systems. A variety of input options have been engineered into the MCA-88 to connect up to 8 individual sources. AV source input options include up to 8 Analog, with up to 3 Digital (up to 3 coax, or 2 coax and 1 optical), including 1 paging and 1 Bluetooth extender connection. The Bluetooth connection allows the installation of the MCA-88 in an equipment rack while remotely locating the optional Russound BTC-1X Bluetooth receiver up to 300' away in or near the room where the Bluetooth source will be located. Additionally, the BTC-1X improves audio quality through the high performance aptX audio codec. An RNET link allows for metadata transmission, linking multiple MCA controllers and connection to all Russound RNET Smart Sources like the ST1 AM/FM external tuner.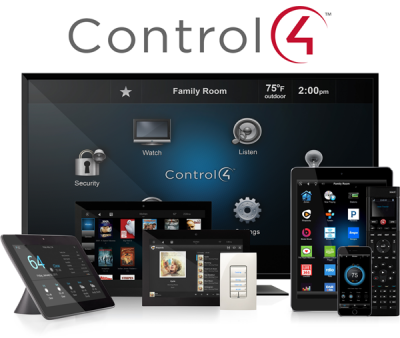 Control4, a leading provider of personalized automation and control solutions, allows you to control virtually any device in a home or business, automatically. Founded in 2003, the company mission is to deliver an elegant and more affordable way to control and automate lighting, music, video, security and energy in a single room or throughout the entire home. Today, Control4® certified custom integrators work with home and business owners to deliver the transformative benefits of the smart and connected home: convenience, peace of mind and an efficient environment that's comfortable and safe.
The MCA-88 is now voice controllable with Amazon Alexa.
Contact your Russound Certified Installer for details.
All MCA products are Ethernet enabled devices allowing for IP based features and control. RIO (Russound I/O) allows Russound IP based control systems to integrate with, control, and communicate bi-directionally through an open protocol. In addition to dedicated keypads and touchscreen control options, the free MyRussound App (iOS and Android) controls all Russound Ethernet connected products on the LAN including the MCA-88 and its source components.
The MCA-88 features 6 zones of high quality amplification, providing a robust 40 watts of power per channel. All eight zones are equipped with fixed or variable line-level outputs for outboard amplification, wireless expansion or subzone use. Additionally, an RS-232 port for integration with serial-connected home automation systems is available for utilization on the rear panel of the MCA-88.
Custom audio settings, party modes, do not disturb, source and zone linking, and all-on/all-off participation are standard features. The MCA-88 has alarm and sleep timers, a Home Theater trigger and one 12VDC trigger output for power management and control. Source eight can serve as a paging input for connection to a 3rd party paging or phone system.
With Russound keypads or touchscreens, the MCA-88 communicates vital information such as preset names, station ID, artist, song titles and album art depending on the capabilities of the source being used. The simpler SLK-1 keypad can also be used for areas where basic control is sufficient such as entry/exit areas of a home or business or any area where the MyRussound App might be the predominant control interface.
Note: This product is part of the Russound Certified Installer Required Program and can only be installed and configured by a Russound Certified Installer.
Features:
6 Amplified Zones @40W/ch
Fixed/Variable Line Out for All Zones
Up to 8 Line-Level Stereo Inputs, 3 Digital Coaxial and 1 Optical
RS232 and IP Controllable
Voice Control is available using Amazon Alexa
6 Routed IR Outputs, plus 1 Global IR Output
Home Theater 12v Trigger In/Out for Shared Sources
Global 12v Trigger Output
Removable Screwless Speaker Connectors
Expandable to up to 48 Zones
Supports Bluetooth® with Optional BTC-1X
Paging System Support with Dedicated 12v Trigger Input
Supports KNX® with Optional KNX-RIO-1
Rackmountable with Rack Mount Ears Included
Two-Year Limited Warranty