Araknis Networks® 100 Series Indoor Wireless Access Point
For long-range, single-band coverage look no further. This mighty little WAP runs on a 2.4 GHz signal for a strong signal when you need it. Its included mounting plate, mounting template, and backing plate make it a breeze to install. Plus with OvrC enablement you get remote access, real-time monitoring, and customer management all from your phone, computer, or tablet.
Important Note – Our wireless access points are on the Control4 Recommended Networking Equipment List, so you can rest assured that it is fully compatible with your C4 environments

Single Band
2.4GHz radio interface only

Indoor
Built specifically for indoor applications

Embedded
Antennas are contained inside the product

PoE
Can be powered through standard 802.3af/at Power over Ethernet

Easy Setup
Plug-n-play for quick access to our web interface

OvrC
Cloud-based customer management service engineered by SnapAV
Fast Roaming Capability
Fast Roaming allows for a quick and seamless transition between multiple wireless access points. The location-based triangulation helps determine the closest and strongest AP, then automatically connects your device.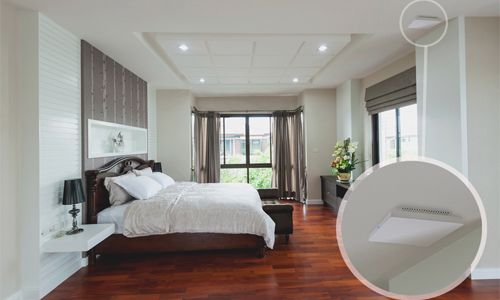 Discrete and Elegant
These Araknis Wireless Access Points were built with a focus on aesthetics so this is a product that your customer will be proud to put in their home. Equipped with just one LED on the side on the side, these WAPs provide an option that's both good looking and discrete.
Installer Friendly
This WAP's square shape gives it the versatility to suit ceiling- or wall-mounted applications. Each WAP comes with a mounting plate to fit both single-gang or double-gang outlets. Plus, we made our mounting holes arched – just give the device a quick swivel. A mounting template is also included in the box, and for mounting to a dropped ceiling, we've included a backing plate.
Hip to be Square
Our sleek little WAPs feature a square shape to accommodate for a larger variety of install situations, including wall-mount, drop-ceiling, and corner applications.
Strong Signal
This WAP runs on a 2.4 GHz band for a smooth and steady, long-range signal right where you need it. And thanks to its enterprise-grade engineering and performance, this switch stands up against the competition. Check out the Tolly Report.
Simple GUI
Our WAPs have an easy GUI that is designed to be user-friendly, and to save you time during set up. For more information on set up and use, head over to our Video Tab.
Auto-Ping & Auto-Reboot
Araknis WAPs are able to continuously "ping" the router to ensure constant connection between the two. Should it detect any issues (ex. DHCP not getting assigned), it will automatically reboot based on your settings. You can even set up regular auto-reboot schedules.
Spectrum Analyzer
During setup, you may come across wireless interference from other access points or appliances. This interference causes intermittent connectivity and network lag. A built-in spectrum analyzer helps locate this interference and assists you in determining the best channel for a WAP to operate.
Repeater Mode
If you can't install extra access points, simply use repeater mode. Although this option will reduce throughput, repeater mode may be an effective trade-off for those tricky installs. Just provide both power and a network connection to at least one WAP, the remaining WAPs only require power.
Wi-Fi CERTIFIED™
Our products are Wi-Fi CERTIFIED™ and fully compliant with IEEE 802.11 standards. This means our products meet industry-agreed standards for interoperability, security, and a range of application specific protocols.
2-Year Limited Warranty
Araknis Networks® products have a 2-Year Limited Warranty. This warranty includes parts and labor repairs on all components found to be defective in material or workmanship under normal conditions of use. This warranty shall not apply to products which have been abused, modified or disassembled. Products to be repaired under this warranty must be returned to SnapAV or a designated service center with prior notification and an assigned return authorization number (RA).